Ethics & Policy
At Delaware EPSCoR we recognize that solving the ethical and policy challenges posed by our use of natural resources to meet our societal needs for water, food, and energy must go hand-in-hand with solving the scientific and engineering challenges.
Limited resources may lead to disputes over access to those resources or fairness in their distribution. Questions arise over who should pay to repair environmental damage or adapt to a changing climate. New technologies may simultaneously hold the potential for benefit and harm or result in unforeseen consequences.
Scientific and technological solutions will fail unless they are also socially acceptable and economically viable. Delaware EPSCoR integrates ethics, public policy, social sciences, and economics into scientific discovery research to ensure that we develop the most sustainable solutions possible.
---
Social Science Research in South Wilmington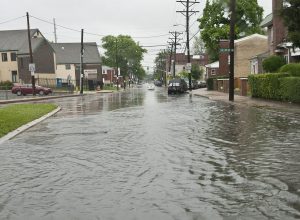 Sea level rise will worsen already chronic flooding problems across South Wilmington, Delaware, especially around the low-income, multi-ethnic neighborhood of Southbridge. That community occupies a low-lying area surrounded on three sides by the Christina River near where it enters Delaware Bay.
This confluence of waterways once made the area ideal for industries such as the leather tanneries that have left behind a legacy of soil contamination. While Delaware EPSCoR scientists are investigating what will happen to the contaminants when saltwater from sea level rise or storm surges inundates industrial brownfields, sociologists and economists are examining the community's possible responses to these threats.
---
Mobile Research Platform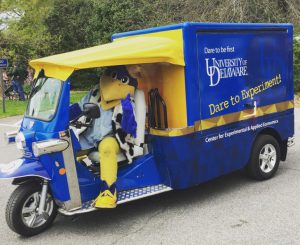 The University of Delaware's Kent Messer was looking for something that would allow him and his research team from the Center for Experimental and Applied Economics (CEAE) to stand out in a crowd and drum up participation when they travel to locations for their experiments, while at the same time, being able to serve all of their research needs. The Delaware EPSCoR PI found his solution on a recent trip to Thailand: a vehicle called a tuk tuk.
"Social scientists always want to recruit a representative sample of participants for their research, but recruiting has become increasingly difficult as people's lives have become so busy," Messer said. "We needed something that was attractive and instantly welcoming. People smile when they see our tuk tuk and they approach us wanting to learn more."
---
Science Café
The Center for Science, Ethics, and Public Policy, the UD Philosophy Department, and EPSCoR sponsor and coordinate informal discussions of cutting-edge research at venues near the UD campus. Each discussion features a science or engineering faculty member who explains his or her research in sufficiently non-technical terms so as to facilitate discussion and improve the public understanding of science. The intended audience includes students, faculty, and the broader community.
---
Public Engagement
The role of citizens, commerical developers and planners are critical in the decision making processes for near shore wind projects. This report focuses on the planning process for six Denmark off shore wind projects to understand what can be learned about meaningful engagement of local citizens. The concept of how "social acceptability" or tolerability of these large construction projects close to shore is addressed as a central question in which this research project explores within the context of the national planning processes. Read more >>
Resources
The Center for Science, Ethics, and Public Policy, University of Delaware
The Ethics Resource Site, Delaware State University
The Center for Experimental and Applied Economics, University of Delaware