Education
EPSCoR works with students and educators to broaden interest and participation in the STEM fields: science, technology, engineering, and math. The goals of Delaware EPSCoR's education programs is to bring the excitement of STEM fields to new audiences and to prepare the workforce of the future for careers in these fields.
Through programs such as science camps for middle schoolers, outreach events for high school students, professional development for teachers, and summer research internships for college undergraduates, Delaware EPSCoR creates a pathway for people who are prepared for the 21st century job market and ready to tackle environmental, energy, and other challenges.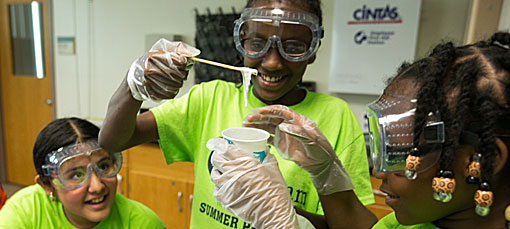 For middle school students
Delaware Tech offers nearly 50 youth summer camps serving 1,000 Delaware youth at its campuses in each county. Some of these camps are offered free of charge to members of underrepresented groups through EPSCoR funding.
Owens campus (Georgetown)
Terry campus (Dover)
For high school students
STEM Expos take place annually in March at all Delaware Tech campuses. These expos introduce high school students to career pathways and academic programs in science, technology, engineering, and math through hands-on exhibits and facilities tours.
For college undergraduates
EPSCoR Summer Scholars research internship program
DENIN Academic Scholars research internship program
List of undergraduate degrees in environmental areas at the University of Delaware
Two-year and technical programs
Delaware Tech offers a variety of technical programs, career training, and associate degree programs that allow graduates to work in the field immediately upon completion or enter a four-year institution as a college junior through its Connected Degree options.